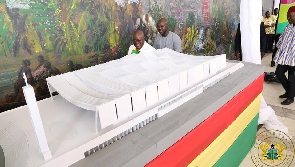 The New Patriotic Party NPP) Youth Organiser of the Obuasi West Constituency, Bright Nyampong has urged the Board of Trustees and key stakeholders of the National Cathedral to welcome any form of an audit by a competent firm.
He postulates the call made by Reverend Duncan Williams and Revered Eastwood Anaba for the project to be halted and auditing done as controversy envelopes the projects are welcomed.

He spoke on Kumassi-based Ultimate FM monitored by MyNewsGh.com with show host Julius Caesar Anadem.

"I am fully for the Cathedral and I still stand by it even today, however, I support the call for suspension and auditing of the project. Of course, there have been too many issues surrounding the project, the latest being the situation with Rev Kusi Boateng. If these respected men of God are requesting for audit, it will bring some clarity to a lot of issues", he observed.
"When this auditing is done, it is good for all those associated with the National Cathedral. It is even good for the image of these respected men of God, I think" he said.

The National Cathedral has been the centre stage for several debates, where as some belief is a waste of state resources others think it I a way to show appreciation to God for all the situations the Lord has blessed this country.

President Nana Addo Dankwa Akufo-Addo is a strong advocate for the Cathedral, indicating it is a way of thanking God for making him President and leader of Ghana.