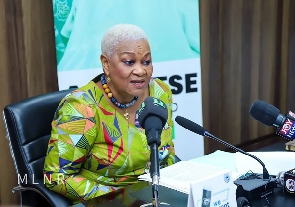 Member of the Board of Trustees of the National Cathedral,Reverend Dr. Joyce Rosalind Aryee, has debunked claims that the National Cathedral is state owned.
According to her, the government is only serving as a supportive instrument for the construction of the cathedral, hence, would provide some resources like land, architect, seed money and a secretariat.

"… and also trust that we the board of trustees would work with the articles of incorporation clause that says that we can borrow money so that we can build" she said.

Speaking in an interview with Samuel Eshun on the Happy Morning Show, Dr. Joyce Aryee justified that it's not in the interest of government to accrue money from citizens to build the edifice, hence, permit people to support willingly.

"I don't think it's the decision of govt to offer all the money in the state to build a cathedral, also we in the board of trustees are not saying we would take money from Ghanaians by force to build, I hope everyone would be calm about his issue" She maintained.
Many Ghanaians have raised concerns with regards to how fund is being raised for the construction of the Cathedral, however the woman of God believes government would not force anybody to donate despite the economic hardships in the country.

"I heard someone said we have to tax but no we don't want it that way God doesn't work like that He wants us to build out of our own will as the phrase goes God loves a cheerful giver so people shouldn't think that how things are difficult now, we would put pressure on them" she stated.

"But we have to note that God is the one who gives us life and strength and also provides our needs so if he says donate if you have in abundant you have to give willingly without anybody forcing you that's how people must understand it "she expounded.

Making references to Haggai 1:2 of the scriptures which reads, "this is what the lord almighty says these people say the time has not come for the lords' hose to be built them the word of the lord came through the prophet Haggai, is it a time for you yourselves to ne living in your paneled houses while this house remains," she urged citizens to be motivated from what the verse read