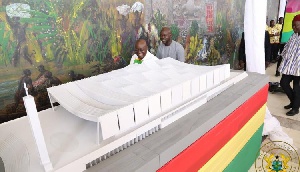 Partly demolished residential accommodation for Appeal Court Judges, demarcated for the construction of a National Cathedral by government has been abandoned, almost two years after the exercise was undertaken.
Although the apartments have been partly demolished, there are no signs of the construction of the cathedral which when completed will house chapels and baptistery, a 5000-seat auditorium, expandable to 15,000 people for national events and celebrations.

The new building will stretch alongside the Osu Cemetery and takeover land holding the Ridge roundabout, the Scholarship Secretariat, the Judicial Training Institute, the Passport Office and the residences of some judges. All of those buildings would be demolished and relocated elsewhere.

Despite government's nondisclosure of the amount to be invested in the construction of the edifice, aspiring Member of Parliament for Abura Asebu Kwamankese and Former Deputy Minister of Communications, Felix Ofosu Kwakye in November 2018, alleged, the national cathedral will cost the state about $100 million.

The construction of the National Cathedral has been met by opposition, including the Trade Union Congress (TUC), and many Ghanaians, but the government has not shown any of retreat.

President Akufo-Addo cut the sod for the construction of a National Cathedral, which is meant for the Ghanaian Christian community during the country's 60th Independence Day celebration on March 6, 2017.
Finance Minister Ken Ofori-Atta noted, while presenting the 2019 budget to Parliament that, government will facilitate the "process by providing the land, the Secretariat, and seed money for the preparatory phase".

Design for the National Cathedral

Additionally, the President has also pledged GH¢100,000 from his personal resources towards the construction of the proposed National Cathedral. He made this promise during the launch of a fundraising for the cathedral at the forecourt of the State House in Accra on Friday, December 28, 2018.

Addressing a dinner gala at the Museum of the Bible in the Southwest section of the District of Columbia on February 8, 2019 in Washington, which was equally used to launch a fundraising as part of efforts for the construction of the cathedral, President Akufo-Addo noted that the building is to fulfill a pledge he has made to God.

He said, "I made a pledge to almighty God, if He was gracious enough to grant my party victory in the 2016 election after two unsuccessful attempts, I would help build a cathedral to His glory and honour. I'm determined to redeem this pledge."