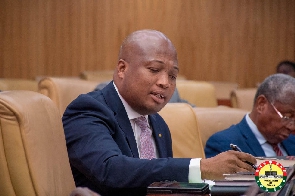 Samuel Okudzeto Ablakwa, Member of Parliament for North Tongu has listed 15 successes that the Minority in Parliament has chalked by way of helping protect the public purse as well as seeking accountability from government.
The MP in a March 6, 223; social media post noted that the Minority were playing their part despite the odds that were against their efforts.

He, however, stressed that it was in the collective interest of the larger population that the fight for good governance continues in order to protect the gains that our forebears made at independence.

A GhanaWeb analysis of the list showed that the National Cathedral and related issues dominated. From his revelations on the project and the attendant Victor Kusi Boateng/Kwabena Adu Gyamfi saga; blocking an allocation in the 2023 budget for the project and also getting a motion for parliamentary probe approved.

Read Ablakwa's full post below:

As we commemorate Ghana's 66th independence anniversary, I have been reflecting on the contributions we can all make from our little corners, no matter how disadvantaged we may seem to be, no matter how formidable the forces against us may appear.
It is our collective patriotic best efforts that aggregate to construct the great Republic our forebears envisioned and toiled for.

Listed below are a selection of some of the recent patriotic best efforts my colleagues and I shall always be proud we pursued:

1. National Cathedral Revelations;

2. Presidential Luxury Charters;

3. Oslo Chancery Gate;
4. Frontiers Healthcare Services Kotoka International Airport COVID-19 Testing Exposé;

5. GHS242million allocation for e-Transaction Levy Services allocated in the 2022 Budget which we fiercely exposed and scuttled;

6. The infamous Rev. Victor Kusi Boateng\Kwabena Adu Gyamfi Conflict of Interest and Double Identity Scandal and the subsequent petition to CHRAJ;

7. Blocking government's outrageous GHS1.3billion demolition and reconstruction of the Accra International Conference Centre;

8. Bulgarian Embassy demolition exposé;
9. Petition to CHRAJ on 2020 election killings;

10. Raising concerns about the colossal GHS1.4billion allocation in the 2023 Budget which the House eventually cut substantially to some GHS533million;

11. Leading advocacy against the insensitive and opaque GHS80million allocation in the 2023 Budget for the National Cathedral which was ultimately defeated in Parliament;

12. Paying a timely working visit to Romania where most Ghanaian students in Ukraine fleeing the war were seeking refuge, and vigorously pursuing a campaign in Parliament for their absorption in Ghanaian Medical Schools;

13. Identifying the budgetary omission of Volta Region from the government's Year of Roads and ensuring it was immediately addressed;
14. Urgent application to Mr. Speaker summoning Finance Minister, Ken Ofori-Atta on his draconian domestic debt exchange programme leading to the exemption of pensioner bondholders;

15. Private Members' Motion demanding a parliamentary probe into the National Cathedral Saga which has been promptly and commendably admitted by Rt. Hon. Speaker Bagbin.

Let us all fearlessly soldier on for God and Country. No contribution must be considered too small. By all means, let's be the change we want.

Ghana First.