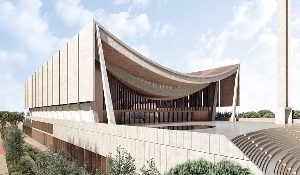 A Supreme Court panel of seven justices hearing a suit against government's plans to construct a 50,000-seater national cathedral has expressed its readiness to expedite the hearing of the matter.
The court subsequently ordered both the plaintiff, James Kwabena Bomfeh and the Office of the Attorney General to file a joint memorandum of issues within a week from Tuesday.

The parties were initially directed by the apex court, presided over by Justice Julius Ansah with Justices Sophia Adinyira, Jones Dotse, Gabriel Pwamang, Suleimana Gbadegbe, Vida Akoto Bamfo and A.A. Benin to explain to the court in case they are unable to agree on a memorandum of issues.

But the plaintiff, represented by private legal practitioner, Baasit Abdul Aziz Bamba, as well as Deputy Attorney General, Godfred Yeboah Dame, informed the court that they had already prepared and signed the joint memorandum but were yet to file it.

The court, therefore, adjourned the matter to November 6, 2018 to start hearing the substantive matter.

The court also indicated that the plaintiff's application for an interim injunction against moves by government to commence the project is pending.
Suit

A member of the Convention Peoples Party (CPP), James Kwabena Bonfeh sued the Attorney General, Gloria Afua Akuffo, over plans by the Akufo-Addo administration to construct a 50,000-seater national cathedral.

According to him, government has no business in religious affairs in the country and wants the support given to Muslim pilgrims declared unconstitutional.



He is praying the apex court to restrain government or any of its representatives from being "involved in or taking any steps towards the construction of the Ghana National Cathedral, including the demolition of residences of justices of the Superior Courts."
The plaintiff also prayed the court to "stop government from commencing any civil works for the construction of the Ghana National Cathedral; and/or taking any action, measure or step preliminary or incidental to the construction of the Ghana National Cathedral."

"A declaration that the decision of the Government of Ghana to purposely endorse, assist, aid, partly sponsor, and/or support the construction of a National Cathedral near the State House of Ghana, for Christian interdenominational church services amounts to an excessive entanglement of the Republic of Ghana and religion and therefore unconstitutional."



He is also seeking a "declaration that the setting up of a Hajj Board by the Government of the Republic of Ghana for the purpose of coordinating, supporting and/or aiding Ghanaian Muslims to embark on a religious pilgrimage to Mecca is unconstitutional."

National Cathedral
The decision by the current government to construct a multi-purpose 50,000-seater national cathedral has sparked controversy, with many describing it as a misplaced priority.

Government has already declared its intention to demolish residences of Appeal Court judges, Passport Office, Judicial Training Institute, among others, to make way for the cathedral.