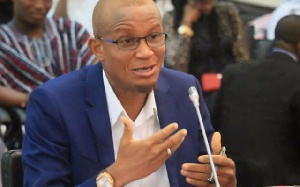 The first ever National Policy Summit aimed at providing government Ministries Departments and Agencies(MDAs) a platform to articulate policies and programmes to targeted stakeholders as well as the general public has been launched in Accra.
"The Ministry now re-established is today launching our first platform for the coordinated communication of government program and policy details across Ministries, Departments and Agencies. We call it the National Policy Summits." Information Minister, Mustapha Hamid told the press at the launch of the event.

The summit, is expected to be held monthly, with each sector Ministry addressing stakeholders on their policy initiatives and planned programmes.

It will also provide a platform for the interrogation of policies and programmes and the fostering of partnerships between government and the private sector in areas including Finance/Economy, Agriculture, Trade and Industry, Energy, Infrastructure for Poverty Eradication Programme(IPEP).
Business Development Minister, Mohammed Awal who launched the event said that "It is the expectation of government that through these Summits, government policies will be well articulated to engineer the needed partnership required for growth."

The main event will come off on May 2 and 3RD in Accra, is under the auspices of the Ministry of Information and the Business and Financial Times(B&FT).

The opening ceremony will be performed by President Nana Addo Dankwa Akufo-Addo and the closing ceremony done by the Vice President Dr. Mahamudu Bawumia .