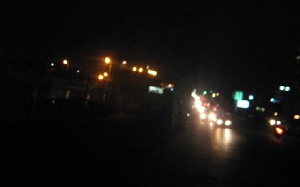 The Electricity of Company of Ghana (ECG) has revealed that 90 per cent of the areas that experienced power outages in Wednesday night's nationwide blackout have had their electricity supply restored.
The entire country was plunged into darkness on Wednesday night as a result of a system failure, the cause of which is yet to be traced.

However, Eric Asante, the PRO of Accra West ECG, has indicated that as at 5pm on Thursday, May 4 2017, "about 80 to 90 percent of power has been restored".

According to him, engineers of the firm are busily working to ensure that the remaining areas across the country receive power as soon as possible.
He indicated that residents around Mallam and Dzorwulu did not have power as engineers were still rectifying the problems identified at their substations.

Meanwhile, the Ghana Grid Company Limited (GRIDCo) has assured the whole country should have power by close of day, Thursday 4 May.