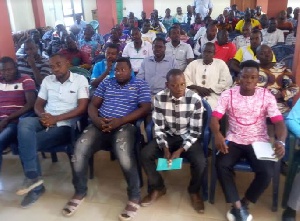 Tue, 12 Feb 2019 Source: Senyalah Castro
Anthony Kofi Mensah, chairman of the governing New Patriotic Party (NPP) for the Navrongo Central constituency has urged party members to desist from internal wrangling and work harder to enable the party to retain power in 2020.
According to him, the huge task of retaining power in election 2020 is a responsibility of all members and would need nothing less of a united party to come out triumph.

Mr. Mensah who was part of other constituency executives of the party at a meeting in Navrongo also stressed on the need for members to respect party structures.

In his speech, Mr. Mensah stressed on the need for members to abide by the fundamentals laid down by the party, both at the national and constituency levels. He noted that it will greatly help curb instances where members flout structures for individual interests.

Chairman Anthony later gave a situational report on developmental projects in the constituency that are under execution by government in the constituency.
He made the assurance to organize more of such meetings, especially on the electoral area basis in order to encourage the participation of many parties "faithful" at the grassroots. He also hinted that plans are far advanced to organize an annual delegates' conference in the constituency.

The Municipal Chief Executive, Williams Aduum graced the occasion. He explained that the government has put in place numerous interventions to better the lives of people in the constituency. According to him, the fair share of government projects in areas within the Municipality is an indication that the NPP government is transforming the constituency.

Mr. Aduum charged all party members to use their capacity to sell the sterling performances of the NPP government.
Source: Senyalah Castro