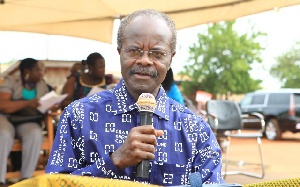 The presidential nominee of the Progressive People's Party (PPP), Dr. Papa Kwesi Nduom, is set for a regional campaign tour beginning today, Wednesday August 3.
A statement from Dr. Nduom's Campaign Coordinator, Richmond Duke Keelson, indicated: "Dr. Nduom will lead national, regional, and constituency executives to the Eastern, Ashanti, and Northern Regions and back to the Volta and Greater Accra regions between now and August 16th. Once again, the focus will be to showcase the party's parliamentary candidates."

Dr. Nduom's campaign to make it to the Flagstaff House after President Mahama's four-year term officially kicked off at the party's national convention held on July 16, during which he was unveiled.

The three-time presidential aspirant has already been to the Volta, Western, Greater Accra, and Central regions to introduce parliamentary candidates to the people.

The statement further pointed out that he would build on "the [party's] credibility for the many ideas and solutions to provide compulsory, continuous, quality education from kindergarten (KG) to senior high school, eradicate preventable diseases like malaria and cholera, create millions of jobs using our locally available raw material, and provide competent, incorruptible leadership that will prevent waste of billions of taxpayers' money that we will use to fund our transformational initiatives".
The party disclosed: "Dr. Nduom has reintroduced the 'Yeresesamu' slogan and is daring President John Dramani Mahama and the NDC to follow."

The business consultant, who will be contesting the presidency for the last time on December 7, 2016, argues that the solution to the ailing economy does not lie with the NPP or the NDC.

The twice-failed presidential candidate believed living conditions in the country had worsened as many young people remained unemployed. To him, the many years spent by the NDC government in power had not alleviated the plight of citizens and the time had come to vote them out.