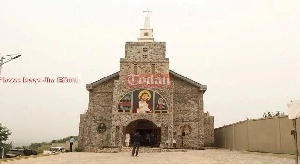 The 2016 presidential candidate of the Progressive Peoples Party (PPP) Dr Papa Kwesi Nduom has constructed a chapel to be used by his family and the surrounding community.
The Church which is called Holy Family Church is situated on the compound of his Hill Top home in Elmina, in the Central Region.

The Holy Family Church was commissioned and dedicated to God by the Metropolitan Archbishop of Cape Coast, His Grace Mathias Kwabena Nketsia.

Before the dedication, a special mass was presided over by the Archbishop who praised the President of Groupe Nduom for his steadfastness in Christ.

He was supported by a number of priests including Rev. Fr. Gym, Monsignor Myers, Monsignor Essilfie, Rev. Fr. Enningful and Rev. Fr. Martin.

He prayed for Dr Nduom and his family for doing what is highly right in the sight of God.
Even though the chapel is situated on a private facility, the public is invited to the chapel for their quiet time praying and meditation. A 'way of the cross' path is to be added for those who will be able to climb the hill to pray along the way.




The Holy Family Church was constructed by Yorke Properties (YP), the estate development wing of Groupe Nduom. It has a seating capacity of close to 200 congregants, and it was built with pure stones from the GN Quarry located at Bokodo, Pershie in Elmina.