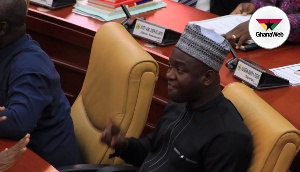 The Member of Parliament (MP) for Tamale North, Alhassan Suhuyini has described as shameful the near-blows incident incited by Deputy Trade Minister, Carlos Ahenkorah.
It took his timely intervention to prevent a near brawl in parliament on Tuesday, December 19 over claims that expatriate businessmen paid $100,000 to sit at the president's table at a recent event.

Deputy Trade Minister, Carlos Ahenkorah clashed with North Tongu MP, Samuel Okudzeto Ablakwa over claims that expatriate workers in the country were billed to sit on the same dinner table with President Akufo-Addo.

During the debate of budget estimates for the Trade Ministry, Minority Chief Whip, Alhaji Muntaka Mubarak said the Ministry sold access to the President during the recently held Ghana Business Expatriates awards.

Speaking to Class news, ranking member of the Foreign Affairs Committee, Mr Ablakwa, described the act as appropriate but that interview was interrupted by the Deputy Minister who is alleged to have consented to the payment by the expatriate business executives.

Tempers flared at this stage as Mr Ahenkorah verbally assaulted Mr Ablakwa leading to the latter being whisked away from the scene by Alhassan Suhuyini.
Mr Suhuyini who later spoke in an interview with Class FM's Jonas Osei Yeboah on the 505 news programme on Tuesday evening recounted the incident he witness and condemned the conduct of Mr Ahenkorah.

"I was stepping out of the chamber when I noticed that Honourable Ablakwa was addressing the press. From a distance I saw that Carlos Ahenkorah was throwing his hands and throwing a lot of tantrums. So I got attracted to the scene to find out what was going on," he said.

He continued: "All along when Mr Ablakwa was speaking to the press, he (Mr Ahenkorah) kept interjecting and insulting and making all kinds of allegations that were so unrelated to the topic that he (Mr Ablakwa) was speaking on.

"When he (Mr Ablakwa) finished and was turning away then he (Mr Ahenkorah) grabbed him and said he (Mr Ablakwa) should stay and listen to his response so that he won't reply again. That was when Ablakwa said he takes exception to the adjectives that he was using on him and it almost degenerated at that point. But I held Honourable Ablakwa and asked him to move away because I thought that Carlos was disgracing himself," he stated.

Mr Suhuyini was of the view that the action of Mr Ahenkorah "is the arrogance of power".
He said he does not expect the Deputy Trade Minister to behave in that manner under normal circumstances "but he is walking on cloud nine and thinks because his party is in power and he is a Deputy Minister he doesn't see why he should respect anybody and have a decent conversation but I think it was very shameful".

Attempts to have Mr Ahenkorah explain his side of the story were not successful.