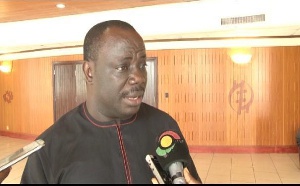 The Majority Chief Whip Matthew Nyindam has revealed that the joint committee on Finance and Energy of Parliament rejected the revised AMERI deal because it had no signatures from the Attorney General and Finance minister.
According to him, Parliament deemed the deal as inconclusive hence their refusal to approve it.

The Energy Ministry laid the agreement on the floor last week seeking a revision of the original 510 million dollars deal signed by the Mahama administration.

The government in the new agreement will pay AMERI $39 million while the new entity will also pay $52 million to Ameri on behalf of the government of Ghana.

Portions of the document stated that "reference is made to the public outcry in connection with the AMERI BOOT Agreement, coupled with the discussion of the issue in Parliament regarding the cost of the project".

Speaking to Francis Abban on the Morning Starr Friday, Mr. Nyindam said he is however unaware if the President was misled in giving his approval to the deal as is being claimed in the media.


"We were expecting to see the Attorney General's report but we didn't see that. We expected some signature from the Finance Minister but it wasn't there. And so we saw something wrong with the agreement presented to us. Personally, I don't know if Nana Addo was misled. I have no idea about that," he said.

Meanwhile, a former communications consultant for the Energy Ministry and Member of Parliament Edward Bawa has called on the President to sack Energy minister Boakye Agyarko over the deal.

"We need to congratulate, Civil Societies and Ghanaians for seeing to it that we didn't pay all these monies. If the President was indeed misled, the public official who misled him should not report to work anymore. I don't believe anyone was misled. An attempt to outwit the country has just failed. The Energy Minister who presented the MoU to the House must be sacked".