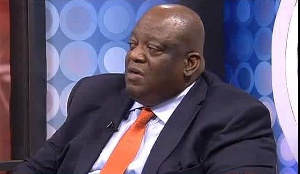 The appointment of ACP Maame Yaa Tiwaa Addo-Danquah, as the Acting Director-General of Criminal Investigations Department (CID) has come under strict scrutiny with a financial analyst, Joe Jackson criticising the process as being untidy.
ACP Addo-Danquah who until the elevation was the deputy CID boss was embroiled in a scandalous leaked tape which suggested she coached a witness in a CID's investigation into allegations of impropriety against two deputy Chiefs of Staff, which the two were later cleared.

She has vehemently debunked the content of the tape which she said was doctored, albeit concedes the voice on it was hers.

It is not public if the police administration investigated the leaked tape before promoting her to the new position and whether she was cleared or otherwise.

Contributing to discussions on TV3's Saturday edition of New Day, Mr. Joe Jackson appeared alarmed by the decision to appoint her considering the issues around the senior police officer is "sensitive".

Though he admitted it was an administrative issue and found nothing wrong in that sense, he had a strong conviction the appointment was "untidy".
"I have a challenge", he said as he wondered if the Ghana Police Service is bereft of a "neutral person" to head such a sensitive department.

But Deputy Minister of Communications, George Andah argued it would be "most unfair" to judge the competence of ACP Addo-Danquah based on allegation.

There is no evidence to back the allegation, he noted as he stressed that the "established" fact that the tape was doctored has not been contradicted by the person who put it out.

For Mr. Andah who is the Member of Parliament for Awutu Senya West, spending time on her appointment would amount to a distraction to the government's ongoing policies.

He also wants people to tone down on the criticism of the Ghana Police Service because "we are not privy to the fact that the police did not do any inquiry", but admitted people would have been "comfortable" if the police had made their inquiry public.