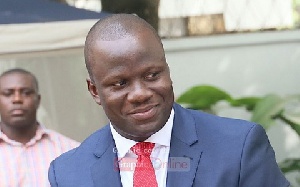 The newly elected constituency Chairman for Damongo, Nana Kwame has denied claims that the Deputy Chief of Staff, Samuel Abu Jinapor was hooted at in his bid to congratulate him on his electoral victory last Saturday.
He disclosed that the claims such an incident happened are untrue and a fiction of someone's imagination indicating that there was nothing close to what has been put out by a section of the media.

"After the elections, he came to my house and congratulated me and told me it was important that we work together and snatch the seat from the NDC. I gave him my word and he assured me of any support for the party in the area", he revealed.

According to him, he together with the Deputy Chief of Staff in the company of some party elders later visited the family of a bereaved elder after which they attended a thanksgiving service at a local church in the constituency.

"I was happy when he came around and I also gave him the assurance I will work and unite the party in the constituency. It was only this morning I started hearing them saying he was hooted and booed at but that is not true", he emphasized.
Mr Samuel Abu Jinapor who attended the constituency primary at Damongo was reported to have been hooted at after his preferred candidate for the chairmanship position failed to make it at the end of polls.

It is alleged that in an attempt make amends with the youth chairman and Nana Kwame who is the newly elected Chairman, he visited his residence to congratulate him but was met with the heavy presence of the youth who were celebrating the victory.

But the Chairman has in an exclusive interview, categorically stated that no such thing happened at his residence or where he went with the Deputy Chief of Staff