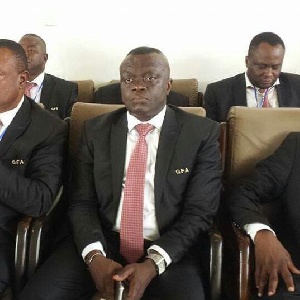 Mr Osei Tutu Agyemang, the newly appointed Chairman of the National Juvenile Committee (NJC), has said that, his primary objective is to ensure that the correct ages are presented in youth competitions.
Mr Agyemang, who doubles as the Ashanti Regional Football Association Chairman, was speaking to the GNA Sports in an interview on his new appointment and what he hopes to achieve in his tenure of office.

Even though Mr Agyemang was yet to receive his appointment letter as he awaits ratification from the Executive Committee of the Ghana Football Association (GFA), he said it was a great honour for him to be nominated for such position.

He said he hope to bring on board, his vast experience in juvenile football administration, would guide him to improve the system.

He noted that, the biggest challenge facing youth football development in the country was with age cheating.

According to him, the purpose of youth competitions was to develop players and the only way to develop the players was representing the right ages for them.

He added that under his administration the issue of age cheating was going to be a thing of the past.
"Naturally our problem at the juvenile level has to do with this age issue. And the first thing we have to do is to make sure that at least we are within the required range," Mr Agyemang told the GNA Sports.

"I can assure you that we would do about it. I have done it in the Ashanti region and those who appointed me have seen what I can do so hopefully I would replicate my achievements nationwide," he added.

Mr. Agyemang explained further that, there was a need to focus the attention on development rather than attaining immediate results.

"Juvenile football is all about development but we have the wrong mindset that has turned into winning trophies. This has made lose focus on the essence of youth development.

"Develop the players today and get a very formidable side in future. So let's think about development when we talk about Juvenile football," he added.