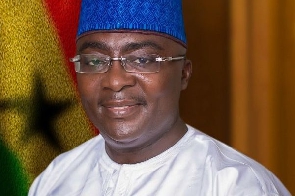 Vice President Dr Mahamudu Bawumia is very hopeful the new year will bring more opulence to the country after having survived a hard-hitting 2022.
He also prayed for "peace and unity" when he shared his new year's message with millions on Ghanaians on his official Facebook handle.

"I wish all Ghanaians a very happy new year. I pray that 2023 will be a year of peace, unity and prosperity for the nation," his message read.

Bawumia reiterated the message in a speech he delivered at the Church of Pentecost's Thomas Wyatt congregation in Accra, where he observed the Watchnight service along with his wife Samira Bawumia and other top government officials.

Most Ghanaians entered 2023 engaging in either Watchnight services in places of worship dotted around the country or at entertainment joints to welcome the New Year.
Ghana had a torrid 2022 amid an economic crisis that forced government to seek an International Monetary Fund facility at a time the cedi was rapidly depreciating, inflation was galloping and government was faced with multiple downgrades by rating agencies.

The government has serially blamed the crisis partly on the aftershocks of the COVID pandemic and the ongoing Russia-Ukraine war.

It has promised to turn around the economic fortunes of the country after sealing a Staff-Level agreement with the IMF with the hope that funds from the US$3 billion facility will be released early this year.