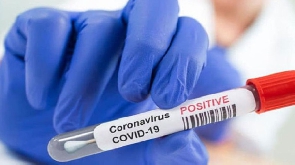 The Deputy Director of Health Services in Charge of Public Health in the Central Region, Dr. Kwabena Sarpong has confirmed that the Central Regional Health Directorate is still recording new cases of Covid-19 infections.
"I can tell you with all the authority that we still recording Covid-19 infections across our country and even in the Central Region". He revealed

Dr. Sarpong revealed that from January 2023 up to date, the Central region has recorded about 100 cases of Covid-19 infection with a call on the general public to take a keen interest in the Covid-19 vaccination.

"Of this number, quite a lot of them are having to be sometimes admitted in our hospital for treatment" he stated.

"We are testing people who come to our facilities with symptoms that are suggestive of Covid-19 when they have a fever, cough and cold and we test them for Covid-19 and people are getting infection" Dr. Sarpong disclosed.

"We have a number of them who are coming to the hospital so Covid-19 infections are still here with us and we are still recording cases of Covid-19 infections". he disclosed
Dr. Sarpong gave the warning during a media and stakeholders meeting as part of the Covid-19 vaccination campaign slated for 19th to 23rd July of this year.

He mentioned that a total of 2.9 million people in the Central Region and out of the figures 1.7 million qualify for the vaccination while adding that out of the eligible population of 1.7 million, 70% have received at least one shot of the vaccine.

Fifty-Five Percent (55%) he indicated, have been fully vaccinated and 50% have received boosters and still want to vaccinate 30% of people who are refusing to take the vaccine.

To this end, he appealed to the media, opinion leaders, the clergy and as well as leaders of the physically challenged to support the Ghana Health Service to achieve the Covid-19 vaccination target.

"We need the support of the media, opinion leaders, the religious and all those who matter to join our drive to reach the vaccination target. Getting vaccinated is one of the surest ways of keeping the virus in check." Dr. Sarpong pleaded.