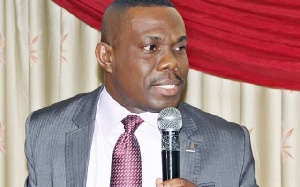 Local Governance Expert, Dr Eric Oduro Osae has said the creation of the new regions by the Akufo-Addo-led government is not politically motivated.
According to him, the creation largely depends on the indigenes from the regions where the new ones will be created not the politicians.

The Commission put together by President Nana Addo Dankwa Akufo-Addo to supervise the creation of the new regions is expected to start its work Tuesday 21 November 2017.

However, there are concerns from a section of the Ghanaian public that the creation of the regions is politically motivated.
But speaking in an interview with Chief Jerry Forson, host of the Ghana Yensom show on Accra 100.5FM on Friday November 17, Dr Osae said although he does not rule out political motivation totally, whether or not the creation will be successful will largely depend on the local people, not the politicians.

"You can influence it politically but the people will have to go to referendum to vote to accept or reject the proposal. If they don't like the idea they will vote against it, if they like they will accept it and so for me, it will be difficult to attach political motivation to this," he said.