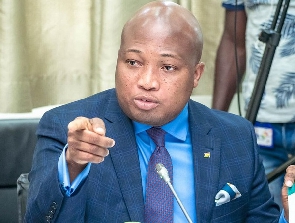 Member of Parliament for North Tongu has made another shocking revelation with regards to Reverend Kusi Boateng, secretary of the Board of Trustees.
Samuel Okudzeto Ablakwa said he has discovered that Rev. Kusi Boateng has two biological mothers - Yaa Gyamfua and Agnes Ataah

According to him, he discovered that aside from the double dates of birth and double TIN numbers, Rev. Kusi Boateng also used two different names to represent his mother's identity in his Taxpayer Registration Form.

On the 13th of August, 2013 when he filled his Taxpayer Registration Form at the GRA under the name Victor Kusi Boateng with September 7, 1971 as the date of birth, he declared that his mother's maiden last name is Ataah, and her first name is Agnes.

"… Last night, Paul Adom Otchere in Rev Kusi Boateng's defence told the country for the first time that the reason why Rev Kusi Boateng had to, at some point, drop Kusi Boateng and was using Kwabena Adu Gyamfi is that, during the Rawlings coup, his father was killed as part of the military excesses. Paul revealed that Rev Kusi was then told to take his mother's name. So, Adu Gyamfi is his maternal name. When he was going for his , told GRA that his mother's last name is Gyamfua and her first name is Yaa. So that aligns with what Paul Adom Otchere said on Good Evening Ghana.

"So, I decided to go for what he told GRA when he was Victor Kusi Boateng and I think GRA didn't know they are dealing with the same person. So as Victor Kusi Boateng, he told GRA in his own handwriting on the 20th of August 2013 that his mother's maiden last name is Ataah and her first name is Agnes.
"I'm revealing it for the first time that he only doesn't have two names, two dates of birth, he also has two mothers," he said on Good Morning Ghana.

The National Cathedral has been one of the topical issues this week following some shocking revelations made by The North Tongu MP.

On Monday, January 16 the lawmaker accused the Secretary of the National Cathedral Board of Trustees, Rev. Victor Kusi-Boateng, of a conflict of interest and possession of multiple identities.

According to him, Rev. Victor Kusi-Boateng appears to be using questionable means to divert funds from the National Cathedral project.

He has since petitioned the Commission on Human Rights and Administrative Justice (CHRAJ) to investigate the matter.
In his petition, Mr Ablakwa accused Rev. Kusi-Boateng of receiving GH¢2.6 million from the National Cathedral Board, alleging that he was the same person as Kwabena Adu Gyamfi.

He also claimed that Rev. Kusi-Boateng used multiple passports and identification cards with different names and dates of birth.

NYA/WA