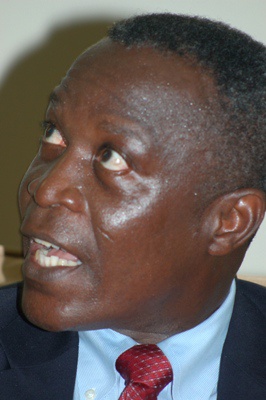 Thu, 25 Sep 2008 Source: GNA
Accra, Sept. 25, GNA - Newspapers on Thursday mourned the sudden death of Mr Kwadwo Baah-Wiredu, Minister of Finance and Economic Planning, in a South African hospital, with glowing tributes from the public and across the political divide.

They also carried photographs of the man who was described by various people as humble, affable and hardworking. "Gone" was the headline of the Daily Graphic, which said "Baah-Wiredu, 56, is no more".


The Graphic had a memorable photograph of Mr Baah-Wiredu holding a briefcase with a Ghana flag stuck on it, as he went to parliament to present the 2008 budget.


The newspaper also devoted two pages of 10- colour photographs to the late minister showing various activities he was involved in. The Ghanaian Times's headline read: "Baah-Wiredu is dead." while the Daily Guide said "Baah-Wiredu is gone" and the Statesman's lead story had the headline, "Baah-Wiredu passes away".


The Chronicle for its part said "Huge pall hangs over Ghana at Baah-Wiredu's death."


Many Ghanaians with tear-stained eyes, shocked and in sorrowful mood are yet to come to terms with the sudden death of Mr Kwadwo Baah-Wiredu, on Wednesday, after a short illness.


The mood of the grief-stricken staff of the Ministry of Finance and Economic Planning was amply displayed when Dr Anthony Akoto Osei, Minister of State at the Ministry who while wiping tears from his eyes, said: "We are deeply shocked and in sorrow by the sudden death of Baah-Wiredu.


"We are waiting for details of the cause of his death. All of us are deeply shocked and hope his soul would rest in peace."

Dr George Y. Gyan-Baffour, Deputy Minister of Finance and Economic Planning, was shocked and loss for words on the death of his boss.


The Office of the President in a statement signed by Mr Kwadwo Mpiani, Chief of Staff and Minister for Presidential Affairs said "The Government announces with deep sorrow and shock the death of Mr Kwadwo Baah-Wiredu, Minister of Finance and Economic Planning, who passed away on Wednesday in a South Africa hospital after a short illness." President John Agyekum Kufuor, when informed in the US about the death, expressed shock and requested that his condolences be extended to his elderly mother, wife, children and the rest of the family. Vice President Alhaji Aliu Mahama described the death as a terrible experience for Ghana.


"It is a sad day for the country," he said, during a meeting with US Ambassador, Mr Donald Gene Teitelbum at the Osu Castle. Alhaji Mahama described Mr Baah-Wiredu as a good man who was also his personal friend.


Mr Teitelbum expressed the condolences of the US on the death of Mr Baah-Wiredu.


Former President Jerry John Rawlings expressed "deep shock" and in a statement said Ghana had lost a dedicated son.


"Throughout his political career he exhibited an element of humility which is lacking within our current political dispensation and which endeared him to his colleagues and political opponents alike," President Rawlings intimated.


"My heartfelt condolences go to his family for such a loss," he said. Professor John Evans Atta Mills, flagbearer of the National Democratic Congress (NDC), described as a great shock the death of Mr Baah-Wiredu, "who was humble, respectful and great achiever". "It is a great loss to the nation, Ghana," Prof. Mills told the Ghana News Agency.

Prof Mills, who said he was shaken by the news of the death, added that Mr Baah-Wiredu was one of his students at the University of Ghana. "He was one of the brilliant students and I was not surprised he excelled wherever he found himself."


Prof Mills expressed condolences to Mr Baah-Wiredu's family, saying he couldn't imagine their grief at this moment.


"Indeed, the nation has lost somebody for whom I have the greatest respect and I pray that the good Lord will keep him in his bosom." In related interviews, leading members of political parties expressed shock and described the death as a great loss to the nation. Nana Ohene Ntow, General Secretary of the ruling New Patriotic Party (NPP), said the entire national executives of the party, received the news with great disbelief, deep shock and described the death as "a big blow" to the party and the nation.


He recalled the different ministerial roles the late Mr Baah-Wiredu played in stabilising the NPP administration since January 2001 saying "the loss is completely irreplaceable to the party and the nation". Dr Kwabena Adjei, Chairman of NDC, told GNA that Ghana had lost a fine hardworking, affable gentleman, "who related with people without looking at any political colour".


"The entire NDC family has been thrown into a state of mourning, bewilderment and shock at the sudden death of such a nice man, especially when most of us did not hear of his ill-health," he said. Dr Edward Nasigrie Mahama, flagbearer of People's National Convention (PNC) was without words when GNA called him for the interview and noted with deep empathy that the nation had lost a fine finance minister.


He said PNC joined all Ghanaians "to mourn the death of the young, hard-working gentleman, whose affiliation cut across the political divide.. We simply call on his wife, children and family to take heart and consolation in the Lord."


Mr Dan Lartey, flagbearer of Great Consolidated Popular Party (GCPP), described Mr Baah-Wiredu as a friend who always ensured that a copy of the budget was sent to him immediately it was ready with nice compliments.

He said Ghana and Parliament had lost a great all round man. "The man is irreplaceable, as his individual contribution is what the NPP is trumpeting on as achievements; he was a fine Minister of Local Government and Rural Development, Education and Sports Minister and accountable Finance Minister."


Mr Oteng Gyasi, President of Association of Ghana Industries (AGI), also expressed shock at the death, saying his passing was a great loss to the private sector as well.


Mr Gyasi said the AGI had worked closely with him to move the business community forward.


"He would be best remembered for the constant and fruitful meetings the Association had with him."


Mr Isaac Osei, Chief Executive Officer of Ghana Cocoa Board (Cocobod), said he was shattered by the news. "I am shocked so much so that I can't even say anything right now," he told the GNA.


"He was a close friend and a good man. We've lost a very humble and technical person."


As Finance Minister, the late Mr Baah-Wiredu had oversight responsibility for Cocobod, whose operations have improved tremendously in recent times.

Mr Baah-Wiredu, 56, was born in Agogo, Asante Akim. He started his secondary education at Kumasi High School, Kumasi in 1967. He obtained the GCE Ordinary Level Certificate in 1972. He had his sixth form education at Prempeh College, also in Kumasi. Mr Baah-Wiredu proceeded to the University of Ghana in 1974 and obtained a B.Sc in Administration (Accounting option).


He then did a four-year course with the Institute of Chartered Accountants qualifying as a chartered accountant in 1985 Mr Baah-Wiredu worked at various positions with the now defunct Ghana Airways and the Volta River Authority and as a senior consultant on computer-systems and as Finance Manager of Ananse Systems. In addition, he was a partner in Asante Wiredu and Associates, an accounting firm, prior to being an MP.


Mr Baah-Wiredu was one of the campaigners against the Union Government (UNIGOV) concept put forward by General Acheampong's Supreme Military Council.


He joined the New Patriotic Party when it was formed in 1992 and became its Member of Parliament for Asante Akim North since 1997 to date.


He became a Minister in President Kufuor's Government in 2001 and held the portfolios of Local Government and Rural Development (2001-2003) and Education, Youth and Sports (2003-2005) before being named Minister of Finance and Economic Planning in 2005, a position he held until his death. 25 Sept. 08

Source: GNA
Related Articles: