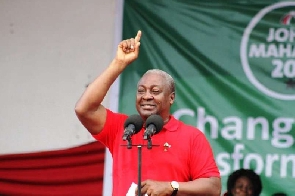 The presidential candidate of the opposition National Democratic Congress (NDC), John Dramani Mahama, has described President Akufo-Addo's administration as maladministration.
He said the current administration led by the Akufo-Addo-Bawumia government poses the biggest threat to Ghana's democracy.

He has therefore called on Ghanaians to vote out the current administration in the 2024 election to rescue the nation.

He made the call in a Facebook post he shared on his official Facebook page today, Monday, July 31, 2023.

Mahama suggested that the current leadership under President Alufo-Addo has put the constitutional democracy of Ghana at risk.
The former President said only a change of leadership, replacing the current inept NPP government with the NDC administration, can ensure the sustainability of democracy and restore hope to the people.

"Transparent and accountable governance in which opportunities are open to all and not just a few is the greatest guarantor of our democracy.

"The almost seven years of Akufo Addo and Bawumia's maladministration is the biggest threat to the survival of our constitutional democracy. Only a CHANGE in this inept NPP government can ensure the sustainability of our democracy.

"The next NDC administration will work to restore hope to Ghanaians quickly. The business-as-usual approach to governance, lies and propaganda will not work. We cannot and must avoid repeating the mistakes of the NPP."