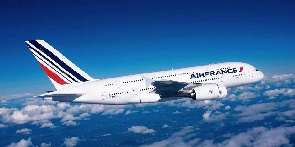 Niger's military rulers have banned French aircrafts from entering the country's airspace.
The air safety agency, ASECNA, said Niger's skies were open to all commercial flights, except for those belonging to or chartered by France.

Paris is the former colonial power and has around 1,500 troops in the country.

Niger reopened its airspace earlier this month, after closing it for nearly four weeks.
The West African nation said it had shut it because of the threat of intervention from neighbouring countries.

The regional bloc, Ecowas, had threatened military action after July's military coup.