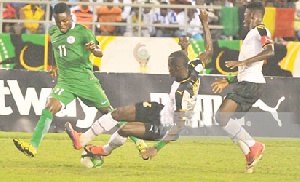 Nigeria coach Salisu Yusuf thinks Ghana thoroughly deserved the Wafu Cup of Nations title after the home-based Black Stars of pummeled their arch rivals Super Eagles 4-1 to clinch the title in Cape Coast.
In a post-match interview Salisu Yusuf said the Black Stars played better and created more opportunities against his side, who he also lamented gifted three goals to seal their own fate.

"We lost to a good team, which is a good lesson for us. The tournament was good," Nigeria coach Yusuf said after the match.

"The boys did well throughout the tournament but its sad that they lost at the end but that is the way the game is".

Stephen Sarfo (2), Vincent Atinga, and Winful Cobbinah all scored to avenge the group stage 2:0 defeat the Black Stars suffered at the hands of the Super Eagles.

A first half strike by Sarfo, followed by two second half penalties 'conjured' by substitute Patrick Razak, who still proved instrumental in the final goal as he harassed the Nigerian defence for a spilled ball in the vital area, proved devastating for the otherwise promising Nigerians.
But coach Salisu Yusuf believes there are positive lessons to pick from the defeat and he returns to the drawing board with his charges to sharpen the rough edges.

Maxwell Konadu, Black Stars assistant coach who was in charge of the team at the tournament, believes overcoming the Super Eagles in the finals was a matter of course, having promised same ahead of the big clash.

He was happy his charges responded well and took their chances, hopeful also of chances for the players in the first team.

According to the coach, the array of players assembled for the tournament are biding to play for the first team and would be drafted to train regularly with the first team to ensure a smooth transition.

Niger beat Benin 2:1 in the third place match to win bronze.