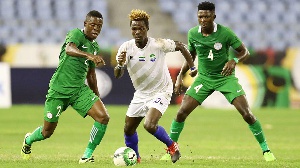 The West African Football Union (WAFU) has effected adjustment in fixtures of the 2017 WAFU Cup of Nations competition, the Nigeria Football Federation (NFF) said on Tuesday in Abuja.
According to a statement by the Media and Communications Department of the NFF, the new fixtures indicate that Nigeria's Super Eagles would no longer be facing Ghana on Thursday.

The fixtures were earlier released immediately after the draws held in Accra, Ghana in August.

"In view of this, the Nigerian camp has now been informed that instead of playing the Black Stars of Ghana on Thursday, as it was in the original fixtures, the Super Eagles will now take on Mali's Aiglons.

"It will be the day's first match, kicking off at 3 p.m. Ghana time (4 p.m. Nigeria time),'' the statement indicated.

It went on to disclose that Guinea's Syli Nationale will face the Black Stars in Thursday's second game, also at the Cape Coast Stadium, starting at 7 p.m. Nigeria time.
The NFF, in the statement, added that the Super Eagles will on Saturday take on the Syli Nationale, also in the day's first match.

This will be before Ghana and Mali face each other as from 7 p.m. Nigeria time. It added that the clash between regional rivals Ghana and Nigeria now comes up on Monday by 6 p.m. Ghana time (7 p.m. Nigeria time).

The second match of the day, between Mali and Guinea, will take place at the same time at Ndoum Stadium.

Below are the revised fixtures:

Thursday Nigeria Vs Mali (15.00hrs GMT) Guinea Vs Ghana (18.00hrs) Saturday Guinea Vs Nigeria (15.00hrs) Ghana Vs Mali (18.00hrs) Monday Guinea Vs Mali (18.00hrs) Ghana Vs Nigeria (18.00hrs)