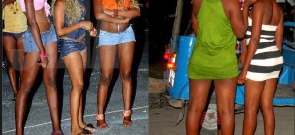 Sat, 21 Jan 2023 Source: GNA
An Accra Circuit Court has remanded a commercial sex worker into Police custody over alleged human trafficking.
Osahenvimwen Raymond has denied receiving Favour Success, 17, the victim and others from Nigeria to Ghana to be used for cybercrime.

He will be brought back to the Court on January 31, 2023.

Deputy Superintendent of Police (DSP) Emmanuel Nyamekye told the Court presided over by Mr Samuel Bright Acquah, who is serving as a relief judge for Court 8, that both complainant/victim and Raymond, the accused person, were Nigerians, residing at Kwabenya.

He said in 2022, the accused person allegedly recruited the complainant and 17 other victims in Nigeria through his syndicate who acted as agents for him based on deceit that the accused was a businessman in Ghana and could help them to progress in life.

The prosecution said the victims were convinced by the deception of the accused and his agents and they were put in a bus in Nigeria with directions to where the accused person resided in Ghana.
On arrival of the victims in Ghana, they followed the directions to the accused person's house at Kwabenya and he allegedly started using them for internet fraud, the Court heard.

The prosecution said the victims did all that they could to enable the accused person to release them to return to Nigeria but all efforts proved futile.

He said the complainant became fed-up and contacted his elder brother, a police officer in Nigeria, and the brother also linked up with Police Intelligence Unit leading to the arrest of the accused.

After investigation, the accused person was charged with the offences and put before Court.

The prosecution objected to bail, saying that the accused person was a foreigner and could easily jump bail.
Source: GNA