Nigerian singer expresses frustration over exclusion from Sarkodie's 'One Million Cedis' music video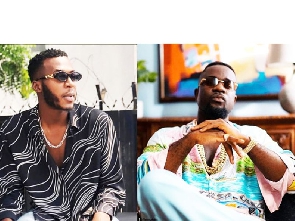 Nigerian musician Ink Boy has expressed his disappointment at missing out on appearing in Sarkodie's music video for their collaboration on "One Million Cedis".
The track was originally featured on Sarkodie's 2022 "Jamz" album, and Ink Boy claimed that he had begged the Ghanaian rapper for the opportunity to appear in the video several times, but was repeatedly turned down.

Ink Boy took to Twitter to express his frustration, stating that he only became aware of the video's release when he was tagged in some posts on March 13.

He also emphasized that he had worked tirelessly on every song he contributed to and felt that he deserved to be shown genuine love and appreciation for his efforts.

While acknowledging that his comments might be seen as ungrateful, Ink Boy remained firm in his belief that he deserved more opportunities to showcase his talents.

"Sincerely I know this might come off weird and people will tag me as ungrateful, but I put blood and sweat into every song, and I deserve to be shown genuine Love, but it's Sad [heartbreak] King @sarkodie I literally beg for every small chance to show myself, but e Dey decline," he wrote.
Sincerely i knw this might come off weird and pple will tag me ungrateful But I put blood and sweat into every song and i deserve to be shown genuine Love but it's Sad King ???? @sarkodie I literally beg for every small chance to show myself but e Dey decline

— INK BOY???? (@inkboyofficial) March 13, 2023
I begged like I was gonna cry to be at the rapperholic but that didn't work sure I can't be entitled but I just heard about the one million cedis video three days ago ???? didn't even know it's was gonna drop today ????????????‍♂️ just saw people tagging me Lol

— INK BOY???? (@inkboyofficial) March 13, 2023
ADA/BB