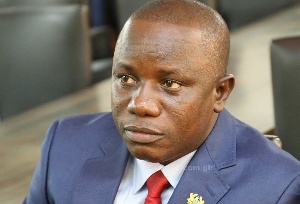 A fierce critic of former President Jerry John Rawlings and a member of the National Democratic Congress (NDC), Alhaji Mohammed Sani has cautioned Defence Minister, Dominic Nitiwul to be wary that political power is not permanent and therefore not his personal property.
The former Ashanti Regional Vice Chairman of the NDC said Mr Nitiwul should also bear in mind going by that analogy the New Patriotic Party (NPP) will not be in power forever and must learn to respect persons who are matured than him politically and in age.

Reacting to a directive from the Minister to Former President John Dramani Mahama, to vacate a land purported to belong to the military, the NDC stalwart observed that the conduct of the minister was a deliberate attempt to denigrate the reputation of Mahama.

"This is not the first time Nitiwul has engaged in a deliberate attempt to disgrace the former President. He should know that power is not permanent and the NPP will not be in power forever. At least the former President is older and matured in politics than him. I will advise him to learn to respect elders because he is too small to engage in that kind of disrespectful conduct", he disclosed on Abusua Fm.

Meanwhile, Dominic Nitiwul, appears to have backtracked from his earlier harsh call on former president John Dramani Mahama to vacate his current property in Accra, alleged to be sited on Military land.
According to Mr. Nitiwul, he only advised the former President to leave the disputed land to avoid being drawn into the ongoing battle over the site.

"I mentioned former president Mahama and said that where he was living, that land is in dispute between several Labadi families and the military. It would not be in his interest as former Commander-in-Chief to live there because people are making reference to him as the one living there with others also encroaching," he said on Eyewitness News.

"If you want to take on somebody, they say the former President is living there as well. I said that if I were him, I would not stay in the place. I said that where Mahama is living is not good for him or for us because big people, top politicians have appropriated military lands so he should leave the area as it won't help us as a people."

An enraged Defence Minister whilst addressing the press on the encroachment of military lands by politicians in the country was quoted as saying: "…I am talking about the former President, John Mahama. I will say no more, but I am very disturbed about this. It is happening in Tamale, it is happening in Takoradi and Lands Commission is colluding to do that. People in Lands Commission were selling Armed Forces lands. Not under this watch, that cannot happen any longer, and anybody who decides to encroach on Armed Forces lands should leave. It is not in your interest. I am sorry; but that is the truth that we did not manage the Armed Forces lands very well"