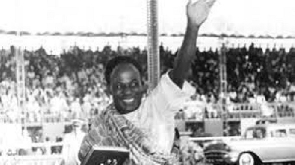 The government, through the Interior Ministry, has issued a reminder to all Ghanaians that Thursday, 21 September 2023, will be celebrated as Kwame Nkrumah Memorial Day and such, a statutory public holiday be observed throughout the country.
This announcement was made in an official statement by the Ministry for the Interior.

Kwame Nkrumah Memorial Day serves as a commemoration of the birthday of Dr. Kwame Nkrumah, who was Ghana's first president.

The day is marked with various events and lectures that honour and remember the accomplishments and legacy of Dr. Nkrumah.

Historically, in 1874, Britain assumed control over parts of Ghana, designating the territory as the British Gold Coast. Following World War II and a growing desire for independence, Ghana became the first sub-Saharan African country to achieve independence on March 6th, 1957.
Dr. Kwame Nkrumah played a pivotal role in Ghana's quest for independence from British rule and was the founder of the Convention People's Party (CPP).

He was sworn in as the first President of Ghana in 1960, following which the republic was declared on July 1st, 1960.

However, in February 1966, while Nkrumah was on a state visit to Vietnam and China, his government was overthrown in a military coup. Dr. Nkrumah never returned to Ghana and passed away in April 1972.

In September 2009, the late President John Evans Atta Mills designated September 21st, the centenary of Kwame Nkrumah's birth in 1909, as Founder's Day, a statutory holiday in Ghana.