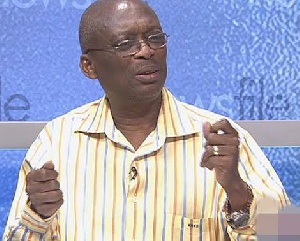 Seasoned Journalist Kweku Baako has described President Nana Akufo-Addo's plans to present a legislation before Parliament to set aside August 4 as a day to celebrate Ghana's founders, including 'The Big Six', and September 21 as Kwame Nkrumah Memorial Day as "needless and unsustainable".
According to Kweku Baako, who was speaking on Peace FM's Kokrokoo, Kwame Nkrumah remains a "global icon" and the "only founder of modern state of Ghana", thus any attempt to have another day to celebrate the founding fathers of the country is utterly baseless.

He told host Kwami Sefa Kayi that, "August 4th on its own, however significant, is not sustainable basis for anybody to run into the realm of having founders. I think it's unsustainable scientifically, politically, historically and logically".

Kweku Baako however advised President Akufo-Addo to ditch his intention because to him (Baako), "Kwame Nkrumah does not need a day, a statutory public holiday in his memory. He doesn't need it".
"Nkrumah is the founder of the modern state of Ghana...There's now a recognition of Nkrumah from even his adversaries, his traditional and his historical opponents that this man in spite of all his errors and some were grave; is actually a great man, a great Ghanaian, a great patriot", he stressed.

Kweku Baako says the declaration of a statutory holiday for the celebration of the founder of the country is "contentious" and so should be scrapped aside.