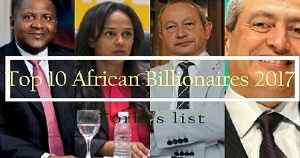 No Ghanaian has been featured among African's 18 billionaires in the latest Forbes billionaire list for 2018.
According to Forbes, there were a record 2,208 billionaires from 72 countries worldwide.

Aloko Dangote from Nigeria with net worth of US$14.1 billion was African's number one billionaire. He owns Dangote Cement, the biggest cement manufacturer on the continent.

South Africa's Nicky Oppenheimer and Johann Rupper were second and third respectively with net worth of US$7.7 and US$7.0 billion.

Mike Adenuga, a Nigerian and owner of Glo Mobile was fourth with a net worth of US$5.3 billion whilst Swaziland retail and property businessmen, Nathan Kirsh was fifth with net worth of US$4.3 billion.

Angola's Isabel dos Santos, the daughter of the country's former president is the richest woman in Africa with wealth of US$2.6 billion and followed by Folorunisho Alakija of Nigeria, another woman who is rich by US$1.5 billion.
On its 2018 list, Forbes has 2, 208 billionaires from 72 countries and territories with a total net worth of $9.1 trillion, up 18 percent since last year. Their average net worth is a record $4.1bn.

Americans lead the way with 585 billionaires, followed by mainland China with 373.

Centi-billionaire Jeff Bezos secures the list's top spot for the first time, becoming the only person to appear in Forbes' ranks with a 12-figure fortune.

His fortune increased by more than $39bn, the list's biggest one-year gain ever. He moves ahead of Bill Gates, who is now number two. It is the biggest gap between first and second place since 2001.

There are 259 newcomers, including the first cryptocurrency billionaires.