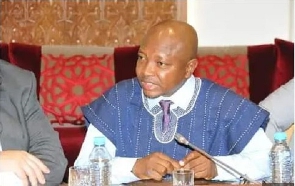 Former Member of Parliament (MP) for Kumbungu, Ras Mubarak has waded into the controversy surrounding the reshuffling of the Haruna Iddrisu-led Minority Caucus in Parliament, asserting that come what may, the decision to reshuffle shall not be reversed.
Ras Mubarak wants the party faithful to rather focus on getting the party to win the election 2024 and supporting the new leadership of Parliament to succeed.

"The decision to appoint new party leaders in parliament won't be reversed. No amount of petitions and press conferences would change that. Better we focus energies on winning political power and help build our country.

"Prime Minister Theresa May and Labour Party Leader Jeremy Corbyn moved from the front Bench to the back bench. Heavens did not break loose. We can't build a strong party with this entitlement mentality.
We have a duty to help Ato Forson and his team succeed as our new party Leaders in parliament,"

Ras Mubarak has had reservations about the influence of Haruna Iddrisu in the party, especially in the Northern Region.

He had earlier, in 2022, accused Haruna Iddrisu of meddling in the affairs of constituency elections…