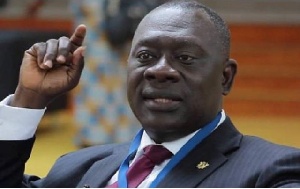 A deputy Minister for Local Government and Rural Development, Hon. Osei Bonsu Amoah, says more patients will continue to be refused admission into Korle Bu Teaching Hospital (KBTH) because the health facility has been overstretched of its capacity.
To avoid this situation and to further prevent more people losing their lives as a result of the unavailability of beds at KBTH and some other major hospitals, Hon. Amoah said there is the need for the country to invest more in its health sector.

Hon. Amoah is hopeful that huge investment in the health sector through the establishment of more health facilities, equipping those facilities and recruiting personnel to manage those facilities is the best way to go in the midst of rising population growth and the fact that Ghana has become the preferred destination for most nationals in the West African sub-region.

"What is important is investing in this [health] sector and investing well so that we have all the facilities", he noted.

The deputy Local Government Minister who is also the Member of Parliament (MP) for Akuapim South made this observation when contributing to a panel discussion on TV 3, Saturday, July 14, 2018.
His response was in connection to the unavailability of beds that have hit most major hospitals in the country and the way forward to averting such situations.

Established on October 9, 1923, the Korle Bu Teaching Hospital has grown from an initial 200-bed capacity to 2,000. It is the third largest hospital in Africa and the leading national referral health centre in Ghana.

About 1,500 patients visit the facility every day to access quality healthcare with 250 of those patients being admitted.

To the Akuapim South lawmaker, if those on admission are not discharged early enough, "there will be big problem" since many more who would want to access the facility would obviously be turned away.