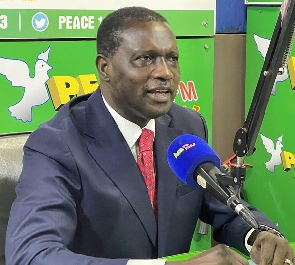 Sun, 5 Feb 2023 Source: GNA
Dr Yaw Osei Adutwum, Minister of Education, has said Ghana's motto and aspiration, freedom and justice, will be meaningless if a more equitable platform was not created for all in education.
He said there was a need to leverage the platform for learners in both private and public schools.

Dr Adutwum was speaking at the symbolic handing over (close-out) ceremony of the learning Transition to English (T2E) Plus Programme by USAID to the Education Ministry and its agencies including Ghana Education Service (GES).

The Family Health International (FHI) 360 led learning activities initiated by USAID in 2014 and supported the Ministry to improve the reading performance of about 750,000 early-grade learners in eleven official Ghanaian languages of instruction in addition to English-complemented radio lessons.

Dubbed, "Ghana made, Ghana strong!" it was strategised during the COVID-19 pandemic for distance/radio learning approach, materials, rollout and monitoring for 1.6 million basic school pupils.

This, the Minister said, would help create an equitable society, adding that Ghana could not wait for the process of orientation to continue championing the President's agenda.
He said Ghana could only stand the shocks of the likes of COVID-19 if foundational learning was key to the society.

In 2018, only two per cent of children at the Primary level could read with understanding but after the programme by USAID where learners were taught to read in both English and local languages, there had been over 57 per cent improvement in higher English reading skills, he said.

The Education Minister said now, more children were empowered as they read with self-confidence, spoke their minds and contributed meaningfully to discussions in classrooms.

He promised that his outfit would sustain the gains made by USAID by employing the best practices to ensure that the majority of the youth had good reading skills with understanding.

He commended Reverend John Ntim Fordjour and Gifty Twum-Ampofo, his deputies, for their support which made the programme a success.
Eric Nkansah, Director General of the GES, commended USAID, and their partners for the huge investments made by building up the capacities of not only teachers but also District and Regional Directors of Education to continue from where USAID ended.

In accepting the responsibility to take over the programme, Dr Nkansah said it would be scaled up to other areas of the country.

He described the impact of the programme on the youth as phenomenal.

Dr Kimberlyn Rosen, USAID Mission Director, said it took education to drive the development of a country and urged all stakeholders to join forces to sustain the programme to make it a success.

She said the programme, introduced over eight years ago, supported learners when COVID-19 pushed them out of school.
Madam Kimberlyn praised GES and the Ghana Broadcasting Corporation for helping to improve the reading programme, especially for Basic Two to Primary Four learners.

The Programme provided 5.7 million Teaching and Learning Materials (TLMs), 20,000 teachers trained, 750,000 heads of schools benefitted, and about 240 per cent of Basic two and 140 percent of Basic three pupils' readership increased.

It had 11,000 schools accessing TLMs, trained additional national teachers support team, 69 per cent parents and guardians made conscious of child learning, use of community radio helped in the patronage, among others.
Source: GNA