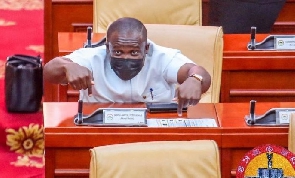 Member of Parliament for Ningo Prampram has revealed that lawmakers are some of the most indebted professionals in the country.
Contrary to popular belief, the outspoken MP revealed that entry into the lawmaking chamber almost always comes with a rude awakening from the perception that Parliament is a land of milk and honey.

"If you come to Parliament, that is when you will know that MP-ship is all but packaging…I don't think that there is any profession that owes bank loans like MPs," he said in an interview on Accra-based Joy News last week.

"All the V8 that we drive is from loan. I know MPs who go home with less than 1,000 cedis because people have to take loans," he stressed.

In a 2021 interview, Sam George said MPs take home an amount of GH¢11,000.
According to him, the GH¢11,000 is the salary MPs in the eighth parliament will be receiving until the salaries and emolument committee has been set up by the president to determine the salaries of Article 71 officeholders.

"The salary of an MP in the last Parliament is around GH¢29,000 a month and that is gross. By the time they finish the deductions, you'll go home with GH¢11,000," he explained.

SARA