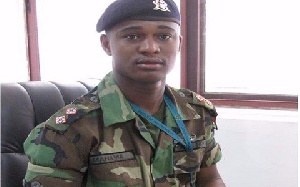 Capt. Dennis Mahama, Father of the murdered Maj. Maxwell Mahama has said he feels very sad that two years after the gruesome killing of his son, Ghanaians have not learnt any lesson as regards mob justice.
Major Mahama, who was the commander of the Military detachment stationed at Diaso in the Upper Denkyira West District of the Central Region met his untimely death on the 29th of May 2017 after he was lynched by the residents Denkyira Obuasi who claimed they thought he was an armed robber.

Official Police account indicates that he went jogging along the Diaso-Dominase-Ayanfu stretch when a mob attacked him upon suspicion that he was an armed robber.

Two years after Major Mahama's death, his father holds the view that his son's death has been in vain as Ghanaians continue to lynch people they suspect to be criminals.

Speaking to Kasapa News, Capt. Mahama said he thought that Maj. Mahama would have been the last victim of mob justice as his death shook the entire country, but sadly that has not been the case.

"Ghanaians have not learnt any lessons from the gruesome killing of Maj. Mahama, just a month after he was buried another innocent Ghanaian was lynched in the same manner as Maj. Mahama and such condemnable acts continue. How can we learn lessons with this kind of attitude? Just two years after Major Mahama's death, everyone seems to have forgotten about the fact that we need to campaign against mob justice and people continue to be killed in this way. As a country, we only say that mob justice should never happen again but we haven't put in measures to ensure it. As a country, we have to walk the talk."
Meanwhile, a 20-foot monument in honour of the late solder at the Airport Hills Roundabout was unveiled on Wednesday 29th May, in commemoration of two years of his death.

Besides the statue, a trust fund has been set up by the government to cater to Major Mahama's wife and children.

President Nana Akufo-Addo also made a personal donation of GH¢ 50,000 towards the fund.

The monument is in line with a request from the family of the late military officer.

Major Mahama's family made the request known during a courtesy call on the president in 2017, where they expressed the hope that the monument would serve as a reminder of the tragedy and a deterrent to the canker of mob justice in Ghana.