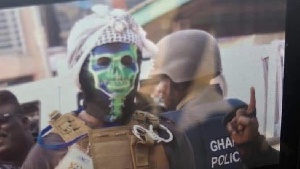 The Emile Short Commission that investigated the violence that marred the Ayawaso West Wuogon by-election has recommended that no masked or hooded men should ever be used in any election in Ghana.
"The commission recommends that no masked or hooded men should be used for civilian policing especially electoral policing or the execution of intelligence contingency, or connected with, any ongoing elections in Ghana," portions of the report intercepted obtained by Kasapa News said.

It also recommended that the " SWAT team and Police officers deployed to maintain peace and order on electoral grounds must have rigorous training in crowd control, arrest, perimeter security for both the ongoing electoral exercise and for any aligned security issues that may emerge in the ancillary fashion".

The report which is in the custody of Kasapafmonline.com recommended that operatives should be re-assigned to their respective units after disbanding the SWAT team.

It further recommended that "The Commission recommends that the SWAT team of the National Security Council Secretariat should be disbanded and operatives be reassigned as appropriate."

The report added: "The Commission further recommends that support for special operations should be sought from the specialized units of the police directly as and when necessary."


The three-member Commission made up of Justice Emile Short, Law Lecturer, Prof. Henrietta Mensah Bonsu and former IGP, P.K Acheampong was tasked to probe the events of the violence which occurred during the Ayawaso-West Wuogon by-election.

It started its public hearings at the Christiansborg Castle, Osu, Accra on February 14.