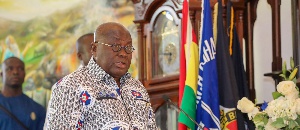 Veteran ace broadcaster Ebenezer Ampaabeng has said there is no need for President Akufo-Addo to comment on the resignation of the former deputy Food and Agric Minister, William Quaitoo following his "unguarded" tribal slur.
"I don't think the president should," he said Wednesday on Starr Chat, warning "we should be careful as a country calling in the president on every single issue."

He continued that Ghanaians could have gone easy on the beleaguered deputy Minister after publicly apologizing for his comments.

"The news that I followed on Facebook I realised that there was a divided opinion over whether he should resign, and I thought that we could forgive him," he said.

Mr. Quaitoo in an interview with Starr News recently described farmers from the North, demanding compensation for their crops destroyed by the army worm epidemic as people who cannot be trusted.
He resigned Tuesday after he was heavily chastised by residents of the Northern Region including a colleague in government, Clara Napaga Tia Sulemana, a presidential staffer despite showing remorse.

A statement from the presidency announcing the former deputy Minister's resignation said, "The President of the Republic, Nana Addo Dankwa Akufo-Addo, this evening accepted the resignation from office of the Deputy Minister for Agriculture, Hon. William Quaitoo, MP, which takes immediate effect. The President wished him the very best in his future endeavors."

According to him, he resigned in order to bring peace among those offended by his comments.

"In addition to the sincere apology, I resigned to bring peace among all those who were offended and to save the President and the entire party from further rancour and disaffection. The party is bigger than any individual member. I pray for a better future for all of us. Good night," Quaitoo told his friends in a text after he submitted his resignation to the President.