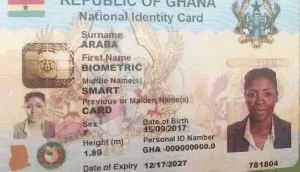 Starting from 1 September 2019, the Controller and Accountant General's Department (CAGD) will remove from government's payroll, all names of police officers and military personnel who fail to register for the Ghana Card, Thomas Kusi Boafo, Chief Executive Officer of the Public Sector Reforms, has said.
Mr Boafo also noted that all prospective police and military personnel without the Ghana Card, will not be accepted into the Ghana Armed Forces and the Ghana Police service.

He has, therefore, urged all Ghanaians to obtain the Ghana Card from the National Identification Authority (NIA).

The NIA started the registration a few months ago.

Already Members of Parliament and officials of the Presidency have been issued with their cards.

Speaking on Ghana Yensom on Accra 100.5FM on Monday, 13 August, Mr Boafo said the CAGD will help in dealing with some major problems in the country, including 'ghost' names on government's payroll.
"The Ghana Card is going to be a prerequisite for people who want to be employed in the public sector or want to do government projects," he said.

He added: "Beginning 1 September 2019, all Ghanaians who want to be recruited into the police and the military but are without the Ghana Card will not be employed.

"Those already in the police and the military who fail to get the Ghana Card will be taken off the payroll because they will be considered as suspected ghosts on the government payroll."