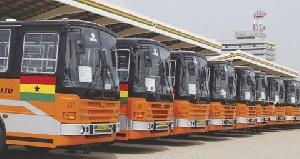 Staff of the Metro Mass Transport Limited (MMTL) are set to embark on a sit-down strike effective today, Friday, July 3, 2020.
According to them, salaries for May and June 2020 have not been paid after taking half salaries for April.

In a statement issued by the Senior and Junior Staff Union at MMTL, the industrial action will be in place until further notice.

"Given the foregoing, the workers through the leadership of the Unions will be embarking on a peaceful sit-down action from Friday, July 3, 2020, until further notice if no attempt is made to pay workers' salaries."

Giving reasons for this decision, the transport company said, "It is instructive to note that the directives from the Sector-Ministry which are intended to regulate the operations of all commercial transport service providers in the country have affected MMTL so much in the area of revenue generation, and this has gone a long way to affect the salaries of staff and their welfare."

Lamenting the drop in revenue due to the new protocols guiding the number of passengers to be picked in a bus as a result of the coronavirus pandemic, MMTL says this has also affected revenue generation, hence, making life difficult for them.
This, they say, has "befallen the company" and "needs the intervention of the Central Government".

"While deeply regretting the delay and nonpayment of staff salaries, workers hope that management would restore our salary payment cycle. It is also hoped that Management would take note and act accordingly to obtain the government's support to alleviate workers of this company from these hardships," the staff of the company added in the statement.

The union, however, assured that the action, themed "No Pay, No Work" is intended to be peaceful and nonviolent.

"All members are therefore enjoined to ensure that they appreciate the directives given to them by the leadership of the unions for a peaceful and harmonious action."