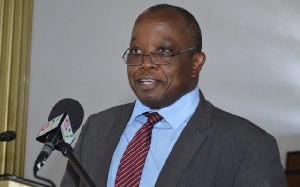 The Ghana Audit Service says public sector workers who fail to participate in the ongoing payroll audit will no longer be considered as employees of government.
It has, therefore, advised workers to take advantage of the exercise currently underway in the Greater Accra Region.

The Audit Service's nationwide payroll enumeration exercise in collaboration with the Office of the Special Prosecutor, forms part of efforts to eliminate ghost names from the government's payroll.

The exercise, which started from the Central Region in July this year, is expected to end with a final batch of workers in the Greater Accra Region by 21 December 2018.

Speaking to Class News' Blessed Sogah in an interview, Assistant Auditor-General, Odame Agyekum, said:
"When the grace period is over, when the report is written, the person who was not validated will have to go to the high court and get a high court judgment for his name to be restored [on the government payroll] and if the person is going to court, the Auditor-General is also fully prepared with its lawyers to meet him or her because we've given the person chance, we've made several announcements, we've sent letters round to all the various units for them to inform their workers.

"So, if after all these exercises, I don't see anyone with any excuse. We started the exercise in July and we are ending it on 21 December. So, after 21st of this month it will end."

"This is our objective and the Auditor-General is bent on achieving that and it will be achieved, and, therefore, we expect the general public to give us support".