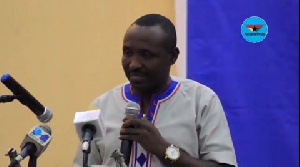 General Secretary of the ruling New Patriotic Party (NPP), John Boadu has disclosed there will be no election conducted in constituencies where candidates are contesting unopposed in the June 20 parliamentary primaries.
Addressing a press conference to set out the modalities for the upcoming primaries in the constituencies where the party have sitting MPs, he said the party will find ways for the unopposed candidates to address the delegates after the processes are over.

Mr. Boadu said the meetings should be organised such that by the close of 20th of June, candidates going solo would have met them and taken them through what the party is about and in doing so, the candidates must adhere to the social distancing protocols.

This process he explained must start by June 15 and end by close of June 20.

Meanwhile, constituencies, where primaries have been suspended, are Kwaadaso (in the Ashanti Region has been suspended until further notice due to a problem with the album), Gushegu (in the Northern Region has also been suspended till further notice), Dormaa Central (Bono Region has been suspended until further notice).

The party he noted is working hard to ensure there would be peace in the constituencies.

Also, there is an outstanding orphan constituency i.e Krachie West where the party is yet to organise but only one candidate filed to contest, he stated.
Mr. John Boadu expressed worry over claims by some supporters of the party that the disqualifications of some aspirants were deliberate.

He has, therefore, advised executives in such constituencies to immediately suspend those involved 'in this awkward behaviour instituting appropriate sanctions in line with Article 3 and 4 of the party's constitution'.

He described these actions as alien to their party and as such, the party will not countenance at all.

He said the candidates who were cleared are loyal and active members of the NPP.

Mr. Boadu stressed the party will make sure rules and regulations are adhered to since the party is a noble one with rich traditions hence persons who will exhibit crass and crude behaviour would not be entertained.