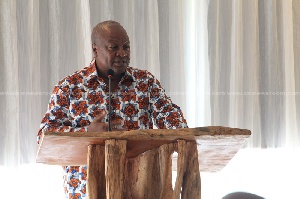 Former President John Dramani Mahama has said: "No amount of government-sponsored propaganda and distraction will take away the stigma of the Ayawaso West Wuogon by-election, as the darkest day in the history of Ghana's 4th Republican democracy."
Mr Mahama's comment is in response to the backlash he has received from the government and families of the late Emmanuel Kyeremanteng Agyarko and the late Lance Corporal Adu Teiko following his meeting with foreign diplomats over the by-election violence.

At that meeting, Mr Mahama screened some videos he purported to be acts of violence captured by the media at La-Bawaleshie during the 31 January 2019 Ayawaso West Wuogon by-election.

The government, in response, described Mr Mahama's interaction with the foreign diplomats as "unthinkable" and that the narratives, as told them by Mr Mahama, are false and designed at tarnishing Ghana's hard-won reputation in the eyes of the international community.

The family of Mr Agyarko have also demanded an apology from Mr Mahama for showing a video of an incident which, according to them, did not happen at the funeral of their son.

Also, the family of late Lance Corporal Adu Teiko have said Mr Mahama is scoring cheap political points with the video of their late son's funeral and want him to apologise. According to them, the police officers in the video were colleagues of their late son and not NPP hoodlums as Mr Mahama portrayed them to the foreign diplomats.

But in a statement, Mr Mahama said: "The substance of the matter is the violence meted out to innocent Ghanaians by hoodlums of the ruling government, paraded initially as state security personnel.


"Thanks to videos filmed by television stations and other individuals, the true identity of these hoodlums, identified as members of the Invincible and Delta Forces of the NPP, have been revealed.

"The victims, injured on the day, did not take guns and shoot themselves. They were injured by powerful assault rifles given to partisan hoodlums for the purpose of intimidating Ghanaians who were peacefully exercising their franchise in a by-election.

"The meeting held by my office in conjunction with the NDC party and the Minority in Parliament was to correct the false impression given to the diplomatic corps that NDC was the cause of the violence in Ayawaso West Wuogon.

"No amount of propaganda from government can erase the shame this country was subjected to on that 'bloody Thursday'.

"In any case, this is not the first, and will not be the last time in our history that an opposition group is meeting with the diplomatic corps to explain or clarify its version or outlook on policy or events in our country.
"The government must own up to its responsibilities and ensure the prosecution of the criminal elements who it deployed to Ayawaso West Wuogon. It is those actions that paint the country black internationally, not those who expose the dastardly acts sanctioned by the government and its appointees.

"In the public interest, let me share with you, one of the three main videos I showed at the Wednesday meeting with diplomats on the violence in Ayawaso West Wuogon. This, like the others, is a compilation available and shared widely by various media houses over the period."