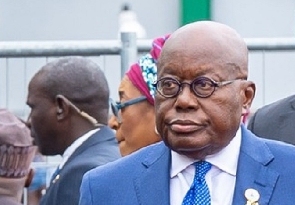 The chiefs and residents of Gwira Tumentu in Nzema East municipality have accused the government of neglect.
The government declared a year of roads, but they claim they have not received their fair share of the national cake.

They reported to Naynkonton Mu Nsem on Rainbow Radio 87.5Fm that they have made multiple appeals to authorities for their damaged road to be repaired.

The Chiefs and the residents noted that since the creation of the area, they've not seen any single bitumen surface on their road.

The most painful part is they produce over 50% of the cocoa which is produced in Ghana but yet they've not enjoyed any cocoa road.

Speaking to the Chiefs of Gwira Tumentu, Nana Hinam II, said, the only means of transportation in the whole of Gwira is by motorcycle.

That is also not an easy ride since the road is unmotorable, he added.
The chief said he had fallen off a motor several times and because of that he is afraid of travelling on the road.

He has also declared 'No Road, No Vote'.

He warned the chiefs and residents would boycott the 2024 general elections if their concerns are not addressed.

"I am sending this warning to the government, specifically the minister, that 'no road, no vote." We shall not take part in the elections. The road is not passable by car. It is a threat to our life and livelihood. This is not politics. Our priority is to have access to a good and motorable road. I've fallen multiple times on the road, therefore I'm terrified of driving on it. Commercial vehicles no longer wish to come here due to the poor condition of the route."

Some people also alleged that pregnant women had died as a result of the road's terrible condition.