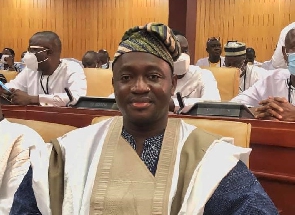 The Member of Parliament (MP) for Tamale North Alhassan Suhuyini has bemoaned the exclusion of persons from the Northern region to the Supreme Court by President Nana Addo Dankwa Akufo-Addo.
The MP raised the concerns in Parliament today, Friday, 24 March 2023, during the debate on the approval of the four Justices nominated by the President to the Supreme court.

The House had approved the nominations of two of the judges; Barbara Ackah-Yensu and Samuel Adibu Asiedu while the Minority had kicked against the approval of two others; Justice Ernest Yao Gaewu and Justice George Kingsley Koomson.

The Deputy Majority leader had however appealed for unison from both sides of the House to approve the nominees.

As part of the reasons given by the Deputy Majority leader for why both sides should come together to approve the nominees, he had asserted that one of the nominees was from the Volta Region.

Reacting to this, however, the Tamale North law maker noted that none of the nominations to the Supreme court have been from the Northern region.
He said: "He [Deputy Majority leader] says that one of them comes from the Volta region, and Mr Speaker that wouldn't have been an issue but because he makes it now, it is important that one also puts on record, in the last couple of years, his excellency the President has made a number of nominations to the Supreme Court.

"Some nominations that have been heavily criticised but none has been made with origin or hailing from the Northern part of this country."

According to the Tamale North MP, "It wouldn't have been an issue but because the Deputy majority leader makes the case that one of the nominees is from a particular region, and for that reason people must support it then it becomes necessary to wonder why over the years, so many nominations have been made by the President but none has been made from the Northern part of this country.

"Mr Speaker, the North has six regions currently, six regions, Mr Speaker, and perhaps I should take the opportunity of this to make the point that the North is not one region, the North is made up of six regions just as the South is made up of many regions," he clarified.

He added that: "When I speak of Northern region, I speak of Northern region and not the six Northern regions. None has come from the Northern region."