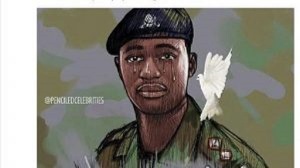 Captain Dennis Mahama Adam (Retired), father of Major Maxwell Adam Mahama who was gruesomely murdered at Denkyira-Boase in the Upper Denkyira West District of the Central Region, has cautioned the public against taking vengeance over the death of his son.
He called on his friends, the citizenry who sympathized with the family to take heart and allow the security agencies to thoroughly conduct investigations into the matter and unravel the ,main culprits behind the dastardly act.

According to him, Ghanaians should not be swayed by conduct of residents of Denkyira-Boase by visiting violence on the wrong persons.

"Don't let us do what the Denkyira-Boase people did by catching the wrong person and lynching him. ,Don't let us do that at all. I have confidence in the police, I have confidence in the army and above all the president of the republic of Ghana who has declared and given orders to the security to bring out the culprits, so we shall get justice for Maxwell" he declared on Tumu-based Radford Fm.

The retired army Captain said the he trust the information that has come out so far about the investigations and believes that the Criminal Investigations Department (CID) boss, the Inspector General of Police and the Ghana armed Forces will come out with the best result in order to prosecute the perpetrators.

About 60 suspects have so far been arrested in connection with the incident with the latest being 7 who were on Friday remanded by an Accra Central District Court including; Akwasi Baah, Solomon Sackey, Kwame Agyei, Joseph Appiah Kubi (aka Kum Dede), Akosua Takyiwaa (aka Maabono), Esther Dauda (aka Asha) and Michael Kumah (aka Kojo Anim) to reappear on June 21, 2017
All suspects have been provisionally charged with two counts of murder contrary to section 46 of the criminal code and other offences act of 1960, Act 29 as well as conspiracy to commit crime to wit murder: contrary to section 23(1) and 46 of the criminal and other offences act 1960 (Act 29).