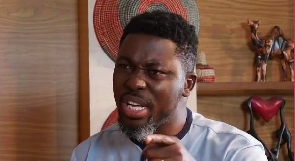 Political Activist Kwame Asare Obeng (A Plus) has said the Ministry of Sanitation is the least-performing ministry in the Akufo-Addo government.
According to him, the capital is still engulfed in filth, rendering the promise by President Nana Akufo-Addo to make Accra the cleanest city in Africa, a mirage.

"The satirist said the ministry has not met the expectations of the public as far as tackling sanitation and water issues are concerned. The Sanitation Ministry does not even have water to flush toilets at their offices", A Plus claimed.

He told Nana Romeo on Accra100.5FM's Ayekoo Ayekoo mid-morning show on Wednesday, 4 December 2019 that the government, in his opinion, should have focused on establishing a sanitation court to prosecute people who litter indiscriminately instead of pursuing what, in his view, are fruitless endeavours such as toll levy and TV licence courts.

A Plus' comments reflect a ministerial performance tracking report released by the Alliance for Social Equity and Public Accountability (ASEPA) a few weeks ago, which recommended the removal of Sanitation Minister Cecilia Abena Dapaah for poor performance.
Responding to the ASEPA rating, Mrs Dapaah indicated at a press briefing in Accra on Tuesday, 3 November 2019 that many Ghanaians do not appreciate the scope of her ministry's work.

She revealed that she was recently able to negotiate some $100 million for wastewater treatment in Ghana, something she considers an achievement that proves how hardworking she is contrary to the poor rating.

She also named the placement of waste bins at vantage points in the capital as one of the ministry's interventions to tackle poor sanitation.