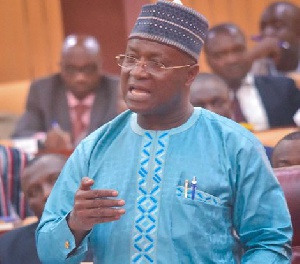 Majority Leader Osei Kyei-Mensah-Bonsu has stated unequivocally that no one in Parliament can obstruct government business.
The leader, who is also the Minister of Parliamentary Affairs, made these remarks in his closing remarks after Electoral Commission officials explained why they wanted to use the Ghana card as the sole form of identification for new voter registration.

The Minority in Parliament has stated that it will not support the Electoral Commission's proposed Constitutional Instrument (CI) until the National Identification Authority (NIA) resolves issues with Ghana Card acquisition (EC).

As part of the new CI, the EC intends to make the Ghana Card the sole identification document for voter registration for the 2024 elections.
Speaking on the floor of Parliament following a presentation by EC and NIA officials, Minority Leader, Dr. Cassiel Ato Forson said "Using the Ghana card as the only means of voter registration will negatively impact the electoral roll and deny some otherwise qualified persons from registering to vote. We cannot take assurances as the basis. Let the NIA resolve the challenges with the issuance of the Ghana card first. Until that, I am sorry, we can never be part of that."

Osei Kyei-Mensah-Bonsu posited that the Minority lacks the authority to prevent the government from conducting business in Parliament.

"The Minority has given a strong indication that, if the issues they have raised are not attended to, they will oppose it and carry through with their opposition. I don't know what he means by that. We are trying to build a consensus, but the bottom line is that, nobody in this house can prevent the government from presenting its business to the house. Let me state that emphatically, absolutely nobody. That is for the avoidance of doubt."