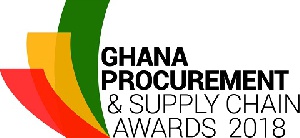 Mon, 4 Jun 2018 Source: Instinct Wave
Instinct Wave has opened nominations for the maiden edition of the Ghana Procurement and Supply Chain Awards scheduled to hold at the plush Mövenpick Ambassador Hotel on the 27th July 2018.
Entries are to be submitted latest by 11th June 2018 for final nominations to be announced.

The maiden Ghana Procurement and Supply Chain Awards which is in collaboration with the Ghana Institute of Procurement and Supply(GIPS) and Public Procurement Authority seeks to celebrate and recognise of top procurement and supply chain practitioners across the country, who have exhibited standard practice over the years as well as organizations practicing ethical and standard procurement systems.

Instinct Wave CEO, Mr. Akin Naphtal in a signed statement said that a celebration of procurement and supply chain executives is long overdue, considering the significant growth in the profession over the years.

"Over the years, Procurement and Supply chain practitioners have evolved by incorporating technology into their work, while maintaining best practices that enable them to improve spend management, streamline purchasing and achieve higher margins. The Procurement and Supply Chain Manager manages the entire process in the planning of procurement and supply chain activities, inventory control, logistics and distribution while ensuring effectively- functioning processes to avoid costly delays and lost opportunities" he explained.

Mr. Naphtal insists that, the efforts of these Procurement and Supply Chain practitioners have been largely overlooked and the time has come for them to be celebrated and encouraged to do more.

"For this reason, we are taking the bold step to celebrate and honour procurement and supply chain practitioners who have demonstrated excellence in delivering best practice and innovation in the profession," he added.
According to Mr. Collins Agyemang Sarpong, President of Ghana Institute of Procurement and Supply; if any practitioner should be recognized and celebrated in any organization, one cannot overlook the significant roles played by procurement and supply professionals in the achievement of corporate objectives. This award has indeed come at a time where various infractions have been reportedly caused by some individuals and corporate entities in the media space; and it is appropriate to recognise and award practitioners who have distinguished themselves and abided by the professional tenets and ethics of GIPS in spite of the seemingly conundrums being faced by procurement and supply practitioners.

This unique award is to celebrate outstanding accomplishments and deepen interest in young fliers in the sector to be more purposeful and resilient.

The Public Procurement Authority CEO, Dr. AB Adjei added that celebrating and awarding organisations and professionals in the procurement sector will further promote excellence om the practice.

This award is open to all Stakeholders, experts and organizations in the procurement industry.

Winners will be unveiled during the gala night on 27th July at the Mövenpick Ambassador Hotel.

The gala night will provide an exceptional opportunity for stakeholders to network and reinforce relationships with partners
Source: Instinct Wave