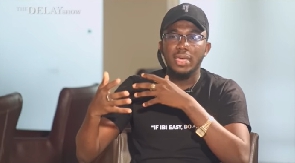 Social media influencer, Joshua Boye Doe (KalyJay), who started the FixTheCountry trend has said under no circumstance did he receive money from any quarters to push an agenda against the Akufo-Addo-led government as it has been widely alleged.
Speaking on The Delay Show, Sunday, KalyJay intimated that his course was purposely to see a change in the lives of the Ghanaian, having encountered a number of people who were financially handicapped. According to him, it is instructive for the government to create an enabling environment to mitigate the challenges as well as deliver on its promises.

Considering that the government appeared adamant and nonchalant about the plight of the people, he decided to initiate a movement that would see a change in the narrative, hence, the birth of FixTheCountry.

"Not even a single pesewa," he said when the host, Deloris Frimpong Manso asked if he was influenced by anyone. "At the point I started FixTheCountry, I looked at my life, I was making money on social media; I looked at my friends and my circle and I realized that there are people in my circle that are way brilliant and needed an opportunity to work but they were not getting it."

"People came to my DM asking for money for school fees, money for healthcare. I sometimes give them if I have. It got to a time; I got fed up. I realized if the system was working, some of these burdens would not be on me," he added.

In 2021 when FixTheCountry was birthed, many Ghanaians joined the campaign and slammed the government for mismanaging the economy and making life unbearable. While some accused proponents of the campaign of doing the bidding of the opposition party and foes of the government, others retorted it was imperative citizens rather fixed their mentality first.

This courted controversy with some saying it was repugnant for anyone to suggest to citizens to fix themselves first when the government has on several occasions performed abysmally.
A demonstration was later staged in August as thousands converged to drum home the need for the government to sit up.



You can also watch this episode of People & Places here:



BB