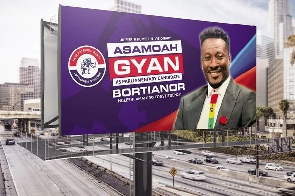 A photo of a billboard in circulation that seeks to confirm that legendary Ghanaian footballer, Asamoah Gyan will be contesting the parliamentary primaries of the New Patriotic Party for the Bortianor Ngleshie-Amanfro constituency has quickly been quashed by Samuel Anim Addo, who is known agent of the football star cum entrepreneur.
In an exclusive interview with GhanaWeb, Anim Addo described as untrue the reports, affirming the earlier stance by Asamoah Gyan that he is not seeking political office at least for now.

When contacted by GhanaWeb over the photo which is gaining traction on various social media platforms, Sammy Anim responded "Not true".

Despite repeated denials by Asamoah Gyan, his name continues to be linked with the Bortianor Ngleshie-Amanfro seat owing to his stardom status, benevolent works, and alleged affiliations with the governing New Patriotic Party.

The incumbent Member of Parliament of the area, Sylvester Tetteh appeared to have given some substance to the rumors when he was quoted as saying that the camp of Vice President, Dr Mahamudu Bawumia is seeking to replace him with Asamoah Gyan due to his affiliations with NPP flagbearer hopeful, Alan Kyeremanten.

A quote attributed to Sylvester Tetteh which went viral on various social media platforms mentions him to be hitting out at the Bawumia team for attempting to use legendary Ghanaian footballer, Asamoah Gyan to unseat him.
'Gideon Boako and his likes are in my constituency, supporting Asamoah Gyan to contest me in our upcoming primaries just because I support Alan Kyerematen. But they should know that I'm a son of the land and I'm ready for their diabolic plans," he is claimed to have said.

This comment infuriated a leading member of the Bawumia camp, Dr Gideon Boako who fired back.

Dr. Boakoa denied the accusations, stating that he has not met Asamoah Gyan in person and that he is hurt by the allegations.

"So this is how the likes of Sylvester Tetteh and supporters of Alan Kyeremanten want to run their campaign. I have never spoken to or met Baby Jet in person before. I have no idea he even wants to contest for parliamentary elections, let alone go and support him. SMH," he said in reply to Sylvester Tetteh's accusations.


Watch the latest episode of Sports Debate below



KPE